What should I wear now? One of the most common questions before taking a trip to Iran is precisely that related to clothing. Whether it's for a do-it-yourself trip, an organized tour or a business trip, before setting out to pack your suitcase, it is right to make a brief introduction. Iran is an Islamic Republic and as such respects Islamic norms regarding clothing. The dress code to observe is very simple for men and a little more complex for women, but nothing too complicated. Let's now see a series of rules and practical advice on how to dress in Iran and how to do it correctly.
FEMALE OUTFIT: THIS
IS WHAT A WOMAN MUST WEAR IN IRAN
It is mandatory to cover the head, therefore also the hair, arms, legs and ankles and hide the body shapes as much as possible. Basically in Iran everything is covered except hands, face and neck. There is not just one dress for women in Iran, but an almost infinite series of combinations and variations. These are the most common items of clothing you will wear or see wearing in Iran:
hijab
manteau
jeans o leggins
chador
Hijab
The hijab is the veil belonging to the Islamic tradition worn by all women since puberty. In Iran, the use of the hijab is mandatory in public places for all Muslim and non-Muslim women, therefore also for all tourists. Depending on the seasons and contexts, a shawl, a foulard, a pashmina or a scarf can be used to cover the head.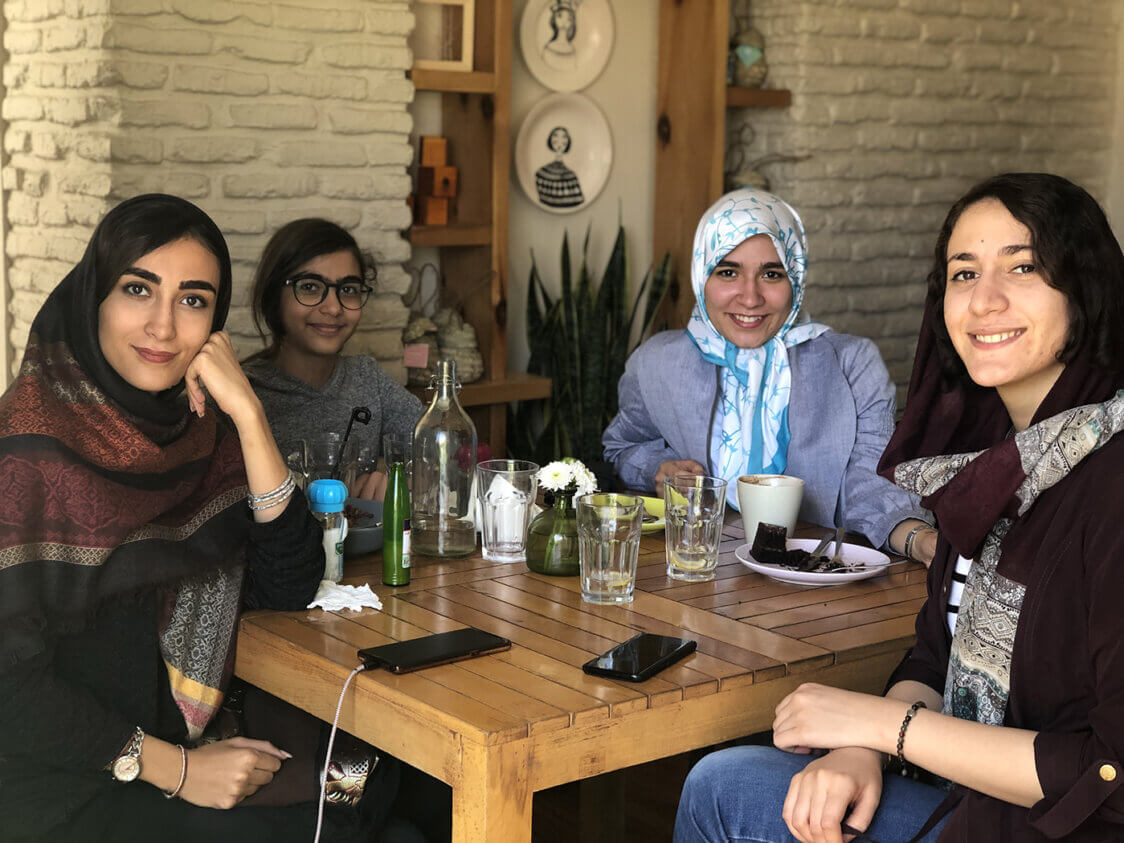 There are different ways to wear the veil in Iran: it is not necessary to cover the hair up to the forehead in fact many women and girls leave part of their hair uncovered. This style is definitely more pronounced in big big cities like Tehran and Esfahan. Regarding the style, there is no limit to the imagination: be it black, colored, floral, choose the veil you prefer according to your taste.
Manteau
According to Islamic rules, women should cover their body shapes. The whole upper part, from the neck to the wrists down to mid-thigh. However, there is some flexibility regarding the 3/4 sleeves. As long as you cover your upper arm and neckline, that's fine. Choose a manteau, cardigan, or long shirt that goes down to mid-thigh.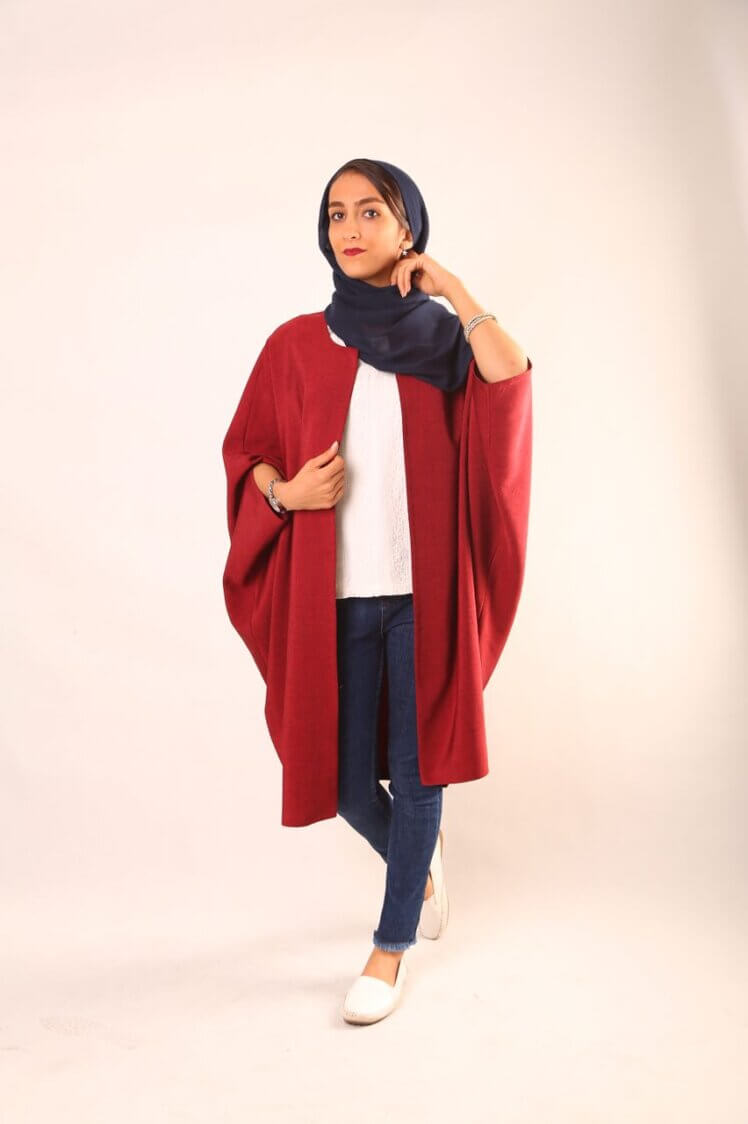 By following this recommended clothing you will not have any kind of problem for your outfit. For example, if you are planning to take a tour in the desert with a night in a tent, remember to opt for looser and more comfortable clothes and warm clothes to counteract the strong temperature range at night..
Shoes
As for shoes, in Iran you can wear whatever you want. Sandals or trekking shoes are certainly an excellent choice for a more varied and eventful journey. But also sneakers or other closed shoes, the important thing that practicality and simplicity always win. Heels are also allowed as long as they are not exaggeratedly vertiginous and especially if they are suitable for the context in which you are.
Chador
The chador is a veil that covers from head to toe that is generally used by the most religious women especially in rural areas or in the most devout cities..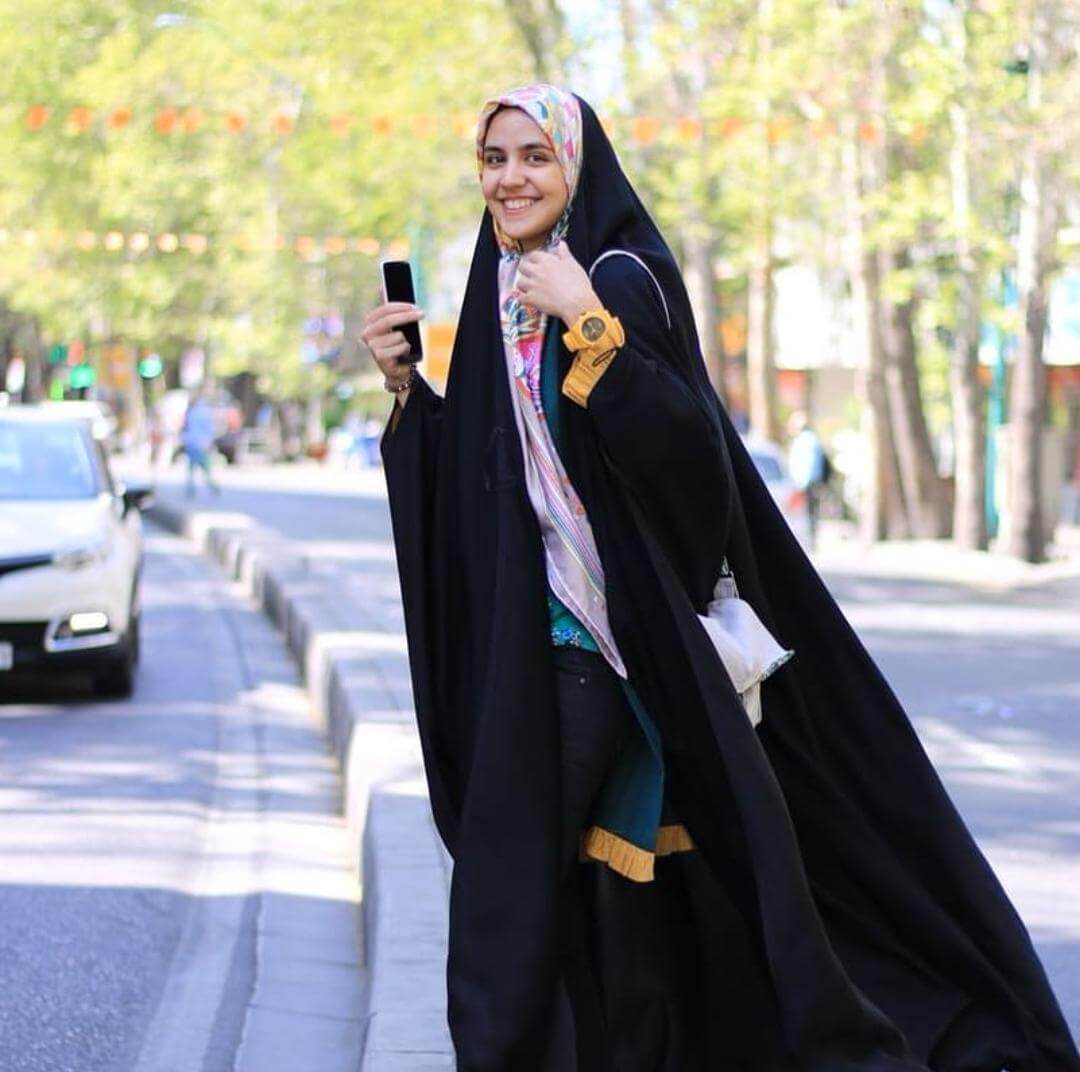 Usually the chador is totally black but depending on the ethnic groups and areas it can also be colored and enriched with decorative motifs. As a tourist, the use of the chador is mandatory only during visits to the most sacred religious places to Shiites, such as the mausoleums with the tombs of the Imams: do not worry about having one with you, it will be kindly lent to you at the entrance of the sanctuary.
Burqa
The use of the burqa is not present in Iran; the only form similar to a total veil can be found in the Hormozagan region in the south of the country. The women of this area wear mysterious masks called boregheh whose history dates back to ancient traditions different from all the others in Iran. A few years ago this custom was exploited by a well-known Italian newspaper but the hoax was promptly dismantled from an article in the Post .
TIPS:
LOOK AROUND AND GET INSPIRED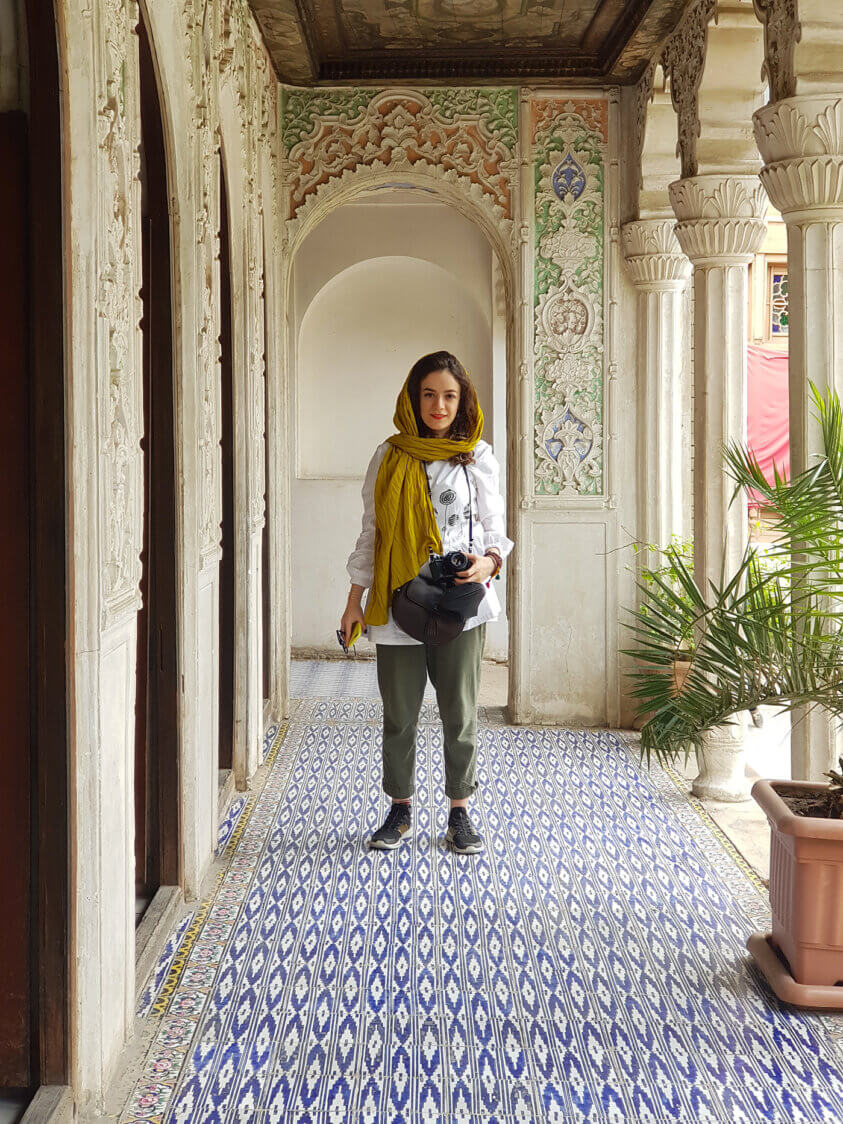 Now that it is clear which clothes to wear and which ones to leave at home, it is right to remember that during the journey the best thing is to look around, follow your instincts and adapt to the context in which you are. In big cities like Tehran or Shiraz you will see that fashion is a lively and ever-changing expressive vehicle, certainly a long way from the classic stereotype of a woman with a black chador. Here many Iranian women and girls are really demanding about their outfit and, while respecting the impositions, they have been able to create a fresh and contemporary style that has nothing to envy to that of Milan or Paris, as you can see in this gallery .

Men Outfit:
This is what a man must wear in Iran
The rules that men must follow to dress correctly during a trip to Iran are very few and simple. Shorts are prohibited in public and are only used in private. In short, you understand, you have to wear long pants even in summer. Anyone who runs into someone in Bermuda will probably have some tourists who are ill-informed or who have not documented themselves at all. The same goes for sleeveless shirts and tank tops: these are also prohibited garments and to be used only in private or as underwear.
A classic sweatshirt and jeans (or shirt and jeans) with sneakers are definitely a recommended type of clothing suitable for the vast majority of occasions. During the summer, cooler and more airy clothes such as linen shirts or trousers of the same fabric, or opt for technical and breathable clothes. At your feet, sandals and trekking shoes will prove to be valid travel companions, guaranteeing you support and versatility. In general, remember to keep a sober and decent look.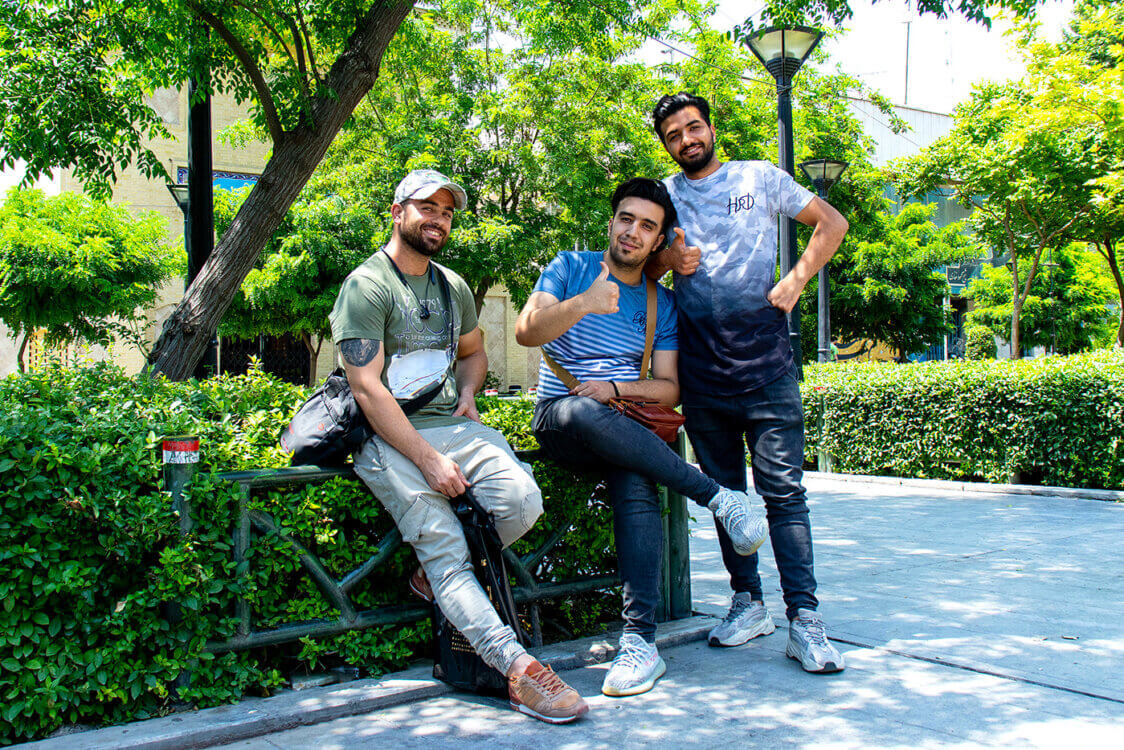 Men: What NOT to wear in Iran
No Shorts
No sleeveless shirts
No tank tops
Still doubts about How to dress in Iran?
If you are not yet clear how to dress and what to pack for your trip or your holiday in Iran, don't worry, contact us at our email or live chat and we will answer all your questions.